Who can enter Canada without a visa?
Discover the list of visa-free countries for Canada and who can enter the country without a visa.
Apply for an eTA for Canada!
Read more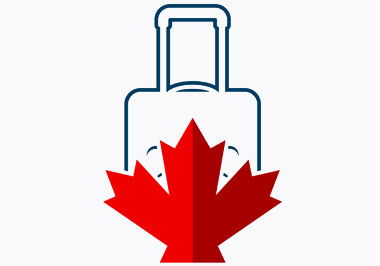 Visa exemptions act as gateways to accessibility, simplifying travel for millions of travellers every year. Among the destinations that embrace this philosophy of openness and ease of travel, Canada stands out. This vast and diverse land welcomes travellers from all over the world thanks to its well thought-out visa waiver policies, helping tourism, business and international relations to flourish. In this exploration, we dive into the world of visa-free countries for Canada, discovering who can cross its borders without this prior requirement, and what this means for travellers and for the host country.
Understanding visa exemptions for Canada
Visa exemptions are basically diplomatic arrangements between countries that allow certain nationals to travel without the need for a visa. They reduce administrative requirements and offer a direct gateway to foreign cultures and landscapes. At the heart of this policy is the recognition of the importance of international travel for economic development, the strengthening of cultural links and diplomatic cooperation.
When it comes to Canada, these visa exemptions are part of a global vision of welcome and diversity. The primary objective is to encourage tourism by making it easier for visitors to explore the country's natural wonders, vibrant cities and rich culture. Greater accessibility also stimulates the business sector by making it easier for international entrepreneurs, investors and professionals to travel, thereby contributing to the Canadian economy and the exchange of innovative ideas.
At the same time, visa exemptions strengthen diplomatic relations by creating opportunities for high-level meetings, international dialogue and bilateral collaboration. They signal Canada's willingness to engage in open dialogue with the world, reinforcing its reputation as a cooperative and caring partner on the international stage.
Electronic Travel Authorisation (eTA): A modern alternative to visas for Canada
The Electronic Travel Authorisation (eTA) is emerging as a contemporary and practical solution for travellers wishing to visit Canada without the need for a traditional visa. Designed for nationals of countries benefiting from visa exemptions, the eTA system simplifies the entry process by collecting the necessary information from travellers in advance. This innovative approach allows Canadian authorities to carry out prior security checks, thereby striking a balance between convenience for travellers and preserving border security. With eTA, Canada is demonstrating its commitment to modernising entry procedures, ensuring a smooth and efficient travel experience while continuing to maintain rigorous security standards.
The Electronic Travel Authorization (eTA) considerably simplifies the process of entering Canada for nationals of eligible countries. Here's how the eTA application procedure works:
Eligibility: The eTA is intended for citizens of countries benefiting from a visa exemption for Canada and who are travelling by air. Before starting the application, it is essential to check whether your country is eligible for the eTA.
Application form: To obtain an eTA, you must complete an online application form. This form requires personal information such as your name, date of birth and nationality, as well as details of your journey, such as the airline, flight number and expected date of arrival in Canada.
Verification and payment: Once the form has been completed, the information will be verified. You will have to pay the fees associated with the eTA request. After payment, submit your application.
Processing : The Canadian authorities will process your eTA application. As a general rule, most applications are approved within a few minutes. However, it is advisable to submit the application at least a few days before your planned departure.
Notification of decision: You will receive e-mail notification of the decision taken on your eTA application. If your application is approved, the eTA will be electronically linked to your passport.
Travel: When you board your flight to Canada, the airlines will electronically check your eTA before your departure. Make sure you use the same passport with which you applied for your eTA.
Which countries are visa-exempt for Canada?
Canada warmly welcomes travellers from a large number of countries benefiting from visa exemptions. These exemptions allow citizens of these countries to visit Canada for temporary stays without first obtaining a visa. The list of visa-exempt countries for Canada changes over time depending on diplomatic relations, border security and international policies. Here is an overview of the countries currently benefiting from these visa exemptions, broken down by geographical region:
All EU Member States and the following countries:
America :
Argentina
Mexico
Costa Rica
Chile
Panama
Saint-Christophe-et-Niévès
Saint Lucia
Saint Vincent and the Grenadines
Trinidad and Tobago
Uruguay
Asia-Pacific :
Australia
South Korea
Hong Kong
Israel
Japan
New Zealand
Philippines
Singapore
Thailand
Middle East and Africa :
United Arab Emirates
Morocco
Caribbean and Indian Ocean:
Antigua and Barbuda
Bahamas
Barbados
Cayman Islands
Seychelles
Length of stay and conditions for travelling to Canada without a visa with an eTA :
When it comes to travelling to Canada using the Electronic Travel Authorisation (eTA), it's essential to understand the limits on your stay and the conditions associated with your trip. Here's what you need to know:
Length of stay : The eTA generally allows stays in Canada of up to six months. However, the authorised period may vary depending on factors such as the reason for your trip and the decisions of immigration officers on your arrival. It is imperative that you respect this period, as any excess may have legal consequences and may affect your future travels.
Purpose of travel: When entering Canada with an eTA, the purpose of your trip is crucial. Whether you are coming for tourism, business, study or other reasons, make sure you have the appropriate documentation to support your travel intention. Immigration officers may ask for proof of your intended stay, such as a letter of invitation, a travel itinerary or information about your accommodation.
Proof of sufficient funds : Having proof of sufficient funds to cover your expenses while in Canada is important. This can include bank statements, accommodation information, return tickets and other documents showing that you have the necessary financial means for your trip.
Transit and stopover: If your trip involves a stopover in Canada en route to another destination, transit rules apply. In many cases, transit travellers need an eTA. However, it is advisable to check the specific requirements according to your itinerary and nationality.
In conclusion, understanding the specific conditions of your trip and respecting the limits of your stay are key factors for a successful trip to Canada as an Electronic Travel Authorisation (eTA) holder. Planning ahead, having the required documentation and following the rules will enable you to make the most of your stay in this country rich in discovery.
Do you have any doubts?
Check if your question has already been answered in the list below
Visa-exempt countries for Canada include all member states of the European Union, Australia, Japan, Singapore and many others. If you are a citizen of one of these countries, you can generally apply for and obtain an eTA to travel to Canada. However, it is crucial to check the specific requirements for your nationality and make sure you have a valid eTA before you leave. The length of validity of the eTA varies, but it is generally valid for several years.
The Electronic Travel Authorisation (eTA) is a system for entry into Canada for nationals of countries benefiting from visa exemptions. It allows travellers from these countries to enter Canada by air for temporary stays without requiring a traditional visa. The eTA facilitates prior security checks and simplifies the entry process while maintaining rigorous security standards.
The eTA offers a modern alternative to traditional visas by reducing paperwork and speeding up entry procedures. Travellers can complete the application form online, and most applications are approved within minutes. This simplifies requirements for business travel, tourism and stopovers. What's more, the Electronic Travel Authorisation demonstrates Canada's commitment to innovation and facilitating international travel.