Questions
How to pay for ESTA after application?
Easily pay for your ESTA authorisation and quickly obtain your confirmation for travel to the USA.
Apply for ESTA!
Read more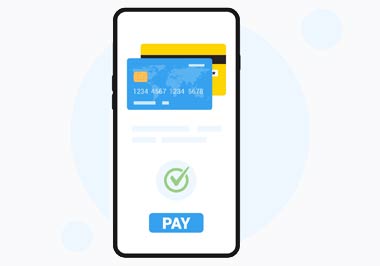 Obtaining ESTA authorisation is an essential prerequisite for travellers from countries benefiting from the Visa Waiver Programme. However, a crucial step in the ESTA application process is the payment associated with this authorisation. It is essential to understand the different payment options available, the steps to follow and the information required to complete this transaction. This is where our guide comes in. Our main objective is to provide you with a comprehensive overview of the ESTA payment process. We will guide you through each step, explaining the accepted payment options, the details you need to provide when paying, as well as the procedures to follow after you have made your payment. Whether you are a frequent traveller or a first-time ESTA applicant, we are here to help you understand and navigate this essential process. By fully understanding how to make your payment, you can obtain your ESTA authorisation with peace of mind and focus on planning your trip to the USA.
Overview of ESTA authorization
ESTA (Electronic System for Travel Authorization) is an electronic system set up by the US government to assess the eligibility of travellers from Visa Waiver Program countries. ESTA was introduced to enhance security and facilitate international travel to the United States.
ESTA is mandatory for eligible travellers who wish to travel to the United States for tourism, business or transit for less than 90 days. It allows the US authorities to pre-assess travellers prior to departure to ensure that they do not pose a security or public order risk.
It is essential to stress the importance of ESTA clearance for eligible travellers. Without this prior authorisation, travellers may be denied boarding on their flight to the USA. It is therefore imperative to understand the ESTA application and payment process in order to obtain ESTA clearance prior to your trip.
ESTA authorisation is valid for two years from the date of issue or until your passport expires, whichever comes first. During this period, you can make several trips to the United States without having to submit a new application, provided your personal and travel information remains unchanged.
It is important to note that ESTA authorisation does not automatically guarantee entry into the United States. Once you arrive at the US border, the immigration officer may still refuse entry if last-minute problems arise or if you do not meet the entry requirements.
However, in most cases, ESTA authorisation facilitates entry without the need for a traditional visa.
Preparation prior to ESTA payment :
Before proceeding to pay for your ESTA authorisation, it is important to prepare properly. This section will highlight the necessary preliminary steps and information required when applying, to ensure a smooth and seamless experience.
Check the validity of your passport: One of the first steps before applying for ESTA is to ensure that your passport is valid and has sufficient validity to cover your intended stay in the US. It is recommended that your passport be valid for at least six months from your intended departure date.
Collecting personal information: When applying for ESTA, you will need to provide accurate and complete personal information. This includes your name, date of birth, address, contact details and details of your employment or education. Make sure you have this information ready before you start the application process.
Prepare your travel information: You will also need to provide details of your travel to the USA. This may include the dates of your stay, the addresses of your places of stay in the US, and your arrival and departure flight information. Make sure you have this information available to avoid delays or mistakes when applying for ESTA.
Check payment requirements: Before making payment, make sure you know the current ESTA fee and the payment options accepted. Fees can vary and it is important to be aware of the exact amounts. Also, check which payment methods are accepted, such as credit cards, debit cards or electronic payments.
Payment options accepted for ESTA :
When paying for your ESTA authorisation, several payment options are available to offer you flexibility in the process. This section will outline the different payment options accepted, explain how to use them and highlight the benefits and possible restrictions of each method.
Credit cards: Credit cards are one of the most commonly accepted methods of payment for ESTA. Major credit cards such as Visa, Mastercard, American Express and Discover are generally accepted. When using a credit card, make sure you have enough credit available to cover the ESTA fee. Advantages: Ease of use and wide acceptance. Restrictions: Some credit cards may charge a currency conversion fee if you pay in a currency other than the one on your card.
Debit cards: Many debit cards issued by international banks are also accepted for ESTA payment. Check with your bank whether your debit card is authorised for international online payments. Make sure you have sufficient funds in your account at the time of payment. Advantages: Convenient and direct use of available funds. Restrictions: Some debit cards may have limitations on international online transactions.
Electronic payments: Some electronic payment platforms, such as PayPal, are also accepted for ESTA payment. If you have a PayPal account, you can choose this option during the payment process. Make sure you have sufficient funds in your account or that your account is linked to a valid credit or debit card. Benefits: Security and convenience offered by electronic payment platforms. Limitations: The PayPal payment option may not be available in all countries.
Other payment options: Depending on your country of residence, other specific payment options may be available. For example, in some countries, bank transfers or cash payments may be accepted. Check the information provided when you apply for ESTA to see what specific options are available in your country.
Confirmation of payment and receipt of ESTA authorisation
After successfully completing your payment, you will usually receive a payment confirmation. This confirmation may take the form of an electronic receipt or an e-mail notification. Make sure you keep this payment confirmation for future reference. It contains important information such as the amount paid, date and time of the transaction.
Do you have any doubts?
Check if your question has already been answered in the list below
ESTA authorisation generally accepts payment by credit cards such as Visa, Mastercard, American Express and Discover. International debit cards are also often accepted. In addition, some electronic payment platforms, such as PayPal, can be used. Please check the payment options available when you apply to ensure that you choose a method that is accepted in your country of residence.
As a rule, ESTA authorisation is granted within minutes of payment. However, it is recommended to allow 72 hours to receive your ESTA authorisation. In rare cases, the verification process may take longer. It is therefore advisable to apply for ESTA well in advance of your trip to avoid any last-minute stress.
After payment, you can check the status of your ESTA authorisation using the application number or ESTA authorisation number provided at the time of your application. Go to the official US government ESTA website and access the status check page. Enter the required information and follow the instructions to obtain the current status of your authorisation. If you encounter any problems or if your application takes longer than expected, it is recommended that you contact the ESTA helpdesk for assistance.