Information
What is the validity period of the ESTA?
Do you have questions about the duration of your ESTA authorisation once it has been obtained? Find out how long your ESTA will be valid and under what conditions you can use it for different trips.
Apply for ESTA!
Read more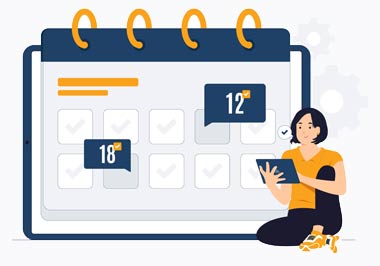 ESTA is an electronic travel authorisation system for travel to the United States that offers a simpler and quicker alternative to a visa for travellers residing in certain countries and whose future stay meets certain preconditions. But what is also interesting with this electronic authorization is that it will allow you, if you wish, to make several trips to the United States without having to reapply thanks to a validity period that we will discuss in detail here. In this article, we will explain to you how long your ESTA is actually valid for, how long you can travel with this authorisation, how to find out when your ESTA expires and other information and special cases concerning this validity.
How long is an ESTA valid for travel to the USA?
Let's get straight to the heart of the matter by telling you how long an ESTA permit is actually valid for. Once you have obtained this travel authorisation, it will be valid for a total of two years.
The date on which your ESTA becomes valid is the date of issue of the travel authorisation and not the date of your first trip to the USA. It is therefore from this date that the two-year validity period will begin. This specificity of the ESTA electronic visa for the United States was decided in order to simplify the procedures for travellers wishing to visit the country several times.
What does this mean? This period of validity starts on the day your authorisation is granted and ends on the anniversary date two years later. During this period, you can logically travel to the United States as many times as you wish, provided that you comply with the conditions established by the scheme, particularly with regard to the duration and purpose of your stay, which we will discuss in more detail below. For these trips, you will not be obliged to make a new ESTA application each time and can simply use the authorisation you already have.
We will also see in this article that for this to be possible, your important personal information must not have been modified and your situation must not have changed. In other words, the reasons why you were granted the ESTA must still be valid and the American authorities are entitled to refuse you entry into the territory if a major change has taken place without you having notified them by modifying or renewing this travel authorisation.
For what types of travel can an ESTA be reused after its validity period has expired?
Now let's look at the types of travel you can do with your current ESTA authorisation if it is still valid.
First of all, it should be remembered that the ESTA authorisation only allows travel to the USA for relatively short stays. The duration of stay authorised by the ESTA system is not, of course, two years and should not be confused with the period of validity of this authorisation. In reality, the ESTA authorisation allows you to travel to the United States for stays of up to 90 consecutive days, or three months. If you wish to stay longer in the United States, you must apply for a visa, even if your ESTA is still valid.
Please note here that the reason for your trip to the USA is also important and is independent of the length of your stay. The ESTA authorisation is primarily intended for people who wish to travel to the USA to visit the country, for tourism, to visit a relative or even to make a business trip, provided that you are attached to a British company.
You will therefore not be able to use your ESTA, which is still valid, to travel to the USA to work, to settle there permanently or to study. For this type of travel, you will also have to apply for a visa specific to your situation.
In short, in order to be able to reuse your ESTA during its validity period, the trips you wish to make to the United States must comply with the same conditions as the initial trip that prompted you to apply.
It should be noted that it is also possible to use your ESTA authorisation during its period of validity for another trip to a destination other than the United States but which involves a stopover or transit in an American airport. In fact, a transit or stopover in the United States is considered by American law to be a stay in the territory, regardless of its duration and even if you do not leave the aircraft. Therefore, you will need an entry permit to complete your trip. The good news is that the ESTA works perfectly in this case, even if you originally applied for it for a stay in the USA. Similarly, an ESTA that was originally requested for a stopover or transit through a US airport can later be used for stays in the US. As regards stopovers or transit on the outward and return legs of your journey, your ESTA must of course be valid on both dates and not just at the time of your outward journey.
An ESTA authorization may no longer be valid before the end of its legal validity period:
As you now know from the explanations we have just given you, an ESTA travel authorisation is valid for two years from the day it is granted and can therefore be used by the traveller to make various trips, stopovers or transits in the United States during this period. However, for your ESTA to be considered valid by the US immigration authorities, the important information on it must not have changed and your situation must be the same as when you first applied.
This is actually perfectly logical, as your ESTA was granted solely on the basis of the information you entered on the form when you first applied. It is therefore possible that, following a change in this information, you will no longer be granted this authorisation.
Of course, this does not concern all the information in your file, but the most important ones. The most obvious example of a change leading to the expiry of an ESTA before it expires is a change of passport number. As you know, the ESTA electronic travel authorisation system is directly linked to your passport. This is why, when you apply for an ESTA online, you must indicate this number. The ESTA authorisation can only be consulted by border or airport officials by scanning the passport to which it is linked. If you have had to change your passport during the two-year validity period of your ESTA, whether due to its expiry, theft or loss, your new passport will have a different number from the previous one and no more authorisations will be electronically attached to it. Unfortunately, it is not possible to transfer an ESTA from one passport to another. You will therefore have to make a new application and start the procedure from the beginning.
Other important information must remain the same at the time of your application and when you travel in the future. This includes information about your identity, such as your first and last name. If you change any of this information during the two-year validity of your ESTA, you must also change your ESTA so that the identity on it remains the same. You must also ensure that the identity information on your passport is the same as that on your ESTA travel authorisation. This can happen, for example, following a marriage or divorce with a name change.
Similarly, if you have moved during the period of validity of your ESTA, you are obliged to inform the authorities responsible for your entry into the United States. If your real address is no longer the same as the one on your ESTA, you may be refused entry to the country. In both these cases, you must of course apply for a new ESTA online, starting the procedure from the beginning and paying the required fees again.
If the information concerning you must of course always be correct at the time of your new trip to the United States, it is also necessary that all the answers you have given to the other questions on this form are always correct. These questions are asked in order to determine whether your legal, health or moral situation is in accordance with the American laws regarding entry into the territory. If this is not the case, you must of course submit a new application to the US authorities by filling in a new online form and paying the fees again. To make sure that the information on your first ESTA is still correct, you should of course remember it or ideally have printed out the form and its answers.
However, some minor information on your ESTA can be changed online without having to reapply. This includes a change of email address and, of course, the name of the airline you are travelling with or the address of your accommodation in the USA.
We would like to draw your attention to the fact that when you renew your ESTA after it has expired before the expiry date and for one of the reasons mentioned above, there is no guarantee that this application will result in the acceptance of this new authorisation and you may be refused this new ESTA. Similarly, you will lose the remaining validity of your previous ESTA, as the new ESTA will be valid for a further two years from the date of issue.
How to find out the expiry date of your current ESTA :
You may be thinking of reusing your ESTA to travel to the United States in the near future and would like to know whether your previous authorisation is still valid in order to avoid having to go through the application process again and pay the required fees.
There are several easy ways to do this. For example, you can find the confirmation email that was sent to you when you first applied. If you have archived it, you will have no difficulty in finding it, but if not, think of doing a keyword search in your inbox. You may also have thought about printing this document, which is not obligatory but can be useful for keeping a written record of the duration of your ESTA's validity.
If you have not printed or saved your ESTA authorisation, you can access the status of this authorisation online. You can do this by using your file number if you have kept it, or by using other information such as your passport number, surname and first name by visiting the official ESTA website.
How do I renew an expired ESTA authorisation?
Whether your ESTA has reached the end of its legal validity period of two years or a major piece of information in your file has ended its validity, you may also want to have some information about how to renew this travel authorisation.
Unlike some of the documents and procedures with which you are already familiar, the ESTA system is not designed to be renewed automatically. You will therefore have to do this yourself.
It is therefore necessary to go back to the official website or to a website like the one we recommend and fill in a new application form as if it were your first application. This is not a simple update of your information, but starts from the beginning.
However, there is no obligation to renew your ESTA as soon as its validity expires. Indeed, as we have seen above, an electronic travel authorisation for the United States is valid for two years from the date of issue. Therefore, if you plan to make several trips or make trips with a stopover or transit in the United States in the future, it is preferable to wait until you really need this travel authorisation to apply for it. That way, you can make the most of the validity period. Similarly, when renewing your passport, remember to check that it is not due to expire soon. If your passport expires before the end of the two-year validity period of the ESTA, it will be invalid again and will have to be renewed. Where possible, remember to renew your passport first and then apply for your ESTA renewal using the number of the new passport.
Still on the subject of renewing your ESTA authorisation after it has expired, some travellers wonder whether they will have to pay the fees they already paid when they first applied.
Unfortunately, the answer to this question is; Yes! You have to pay these fees again without any possibility of a discount or a specific renewal rate. The reason for this decision is quite easy to understand. Indeed, let us recall that a renewal of your ESTA authorisation consists of a new complete application procedure and therefore a new submission of the form. For the American authorities responsible for examining and responding to the applications, this represents the same amount of work and it is therefore logical that the fees charged here are the same as those you had to pay the first time.
The good news is that some sites offer you a refund of these fees if your new ESTA application is rejected. This means that there is no risk of losing your money if you make a new application following a change in important information in your file that no longer guarantees you will obtain this travel authorisation.
Is it necessary for your ESTA authorization to cover the entire duration of your stay in the United States?
To conclude this article, we would like to turn our attention to a pertinent question asked by many travellers whose ESTA is about to expire. What does US law say about the need for the validity of an ESTA to cover the entirety of a stay in the USA?
The good news is that in reality, the validity of your ESTA is most important when you enter the United States. It is therefore especially necessary that this authorisation is valid on the day of your departure. Even if your stay in the USA lasts 90 days, which is the maximum authorised stay, you will not be required to have an authorisation that covers these three months, but only an authorisation that is valid at the time of your arrival in the USA. You will therefore not need to reissue the permit during your stay if it expires and will not have any problems with your return journey to the UK.
However, it is necessary to address here the special case of transits or stopovers in the USA. As we have briefly mentioned above, these transits or stopovers are considered as real stays, even if you do not get off the aircraft in which you are travelling. Thus, the date of your stopover or transit will always be considered as the date of your entry into the US. This is why, in this particular case and unlike a simple stay in the USA, your ESTA must cover both your outward and return flights. So take the time to check that your travel authorisation will be valid for the entire duration. If this is not the case, you can reapply before your departure or during your stay in a country other than the United States, as long as you have an Internet connection at your disposal.
Finally, it should be noted that although your ESTA authorisation does not have to cover your entire stay in the United States, the same does not necessarily apply to your other official documents. Your passport must be valid for the duration of your stay in the United States. If your passport is about to expire, it is therefore advisable to renew it before your trip.
Do you have any doubts?
Check if your question has already been answered in the list below
The ESTA is an electronic authorization for travel to the United States, allowing certain nationals of countries benefiting from the Visa Waiver Programme to travel to the United States for stays of 90 days or less without a visa. Unlike a visa, the ESTA process is quick and only requires the completion of an online application form to obtain this electronic authorisation in a paperless manner.
The ESTA is valid for a period of two years from the date of issue, unless the traveller's passport expires before the end of this two-year period. In this case, the validity of the ESTA will be aligned with the expiry date of the passport. This validity may also be reduced in the event of a major change in the nationality, identity or place of residence of the traveller who has applied for it. In this case, a new application must be made.
No, it is not possible to extend the validity of the ESTA. After two years, or if your passport expires before that date, you will have to apply for a new one. In addition, if you change your name, gender, nationality or other important information, you will also need to apply for a new ESTA form. It is therefore important to check the validity of your ESTA and passport before travelling to the United States to avoid any unpleasant surprises on arrival.