Questions
Do I need an ESTA to transit through USA?
Obtain an ESTA easily for your transit to the USA or for a simple stopover in the USA through the official website or the website of our partner that we have selected for you and that gives you access to the online application form.
Apply for ESTA!
Read more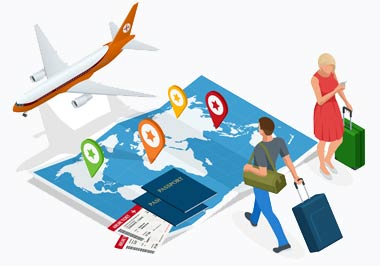 Although the final destination of your trip may not be the United States, you may have planned to transit through an American airport before reaching the country to which you are travelling. Many travellers wonder whether they need ESTA travel authorisation for a simple transit or even a stopover in that country. In this article, we will explain why such authorisation is indeed mandatory and how to apply for an ESTA in order to transit through the USA legally and carry out your travel plans.
Why is it required to have a residence permit for a simple transit in the USA?
First of all, you are probably wondering why it is necessary to have an ESTA or other type of residence permit when you are not planning to stay in the USA but are simply in transit. Indeed, it is imperative to obtain this authorisation before having the right to board your flight to your destination from the moment your flight makes a stopover or lands for a transit in an American airport, and this, even if you are not going to leave the aircraft.
In fact, a visa or ESTA authorisation is required to allow you to enter the United States, and this also applies to American airports. The American authorities study each case individually to check that travellers passing through these airports do not present a potential danger to the security of the State. Whatever the length of time you are going to be on American soil, you must first have obtained the right to do so.
The first check of this travel authorisation will be carried out before your departure and directly by the staff of the airport where you are going to board. If you do not have this authorisation, you will simply not be able to board the plane. It is therefore essential to have thought about obtaining this official document before your trip. As we will see in more detail here, the ESTA electronic travel authorisation is without doubt the best way to validate your transit to the USA.
What is an ESTA authorisation for a stopover in the USA?
Let's take a moment to explain what the ESTA system is and how it works, particularly in the context of transit to the USA.
This system was introduced in 2009 by the US government to simplify the administrative process for some travellers wishing to visit the United States who previously had to apply for a visa, which was both time-consuming and costly. This new security system is, as its name suggests, a fully electronic system in the sense that all procedures are carried out directly online. ESTA stands for Electronic System for Travel Authorisation. But ESTA is also known as the Visa Waiver Program, in that it is a visa waiver. This means that if you obtain this ESTA, you will not need a visa to travel to the USA, either for a stay or for a simple transit. But be careful! This document will only allow you to enter the United States by air, i.e. by plane, or by sea, i.e. by boat.
The ESTA authorisation can therefore greatly simplify your travel preparations as this application will only take a few minutes and is done, as we will explain in detail below, directly online. However, it is necessary to specify here that this electronic travel authorisation is subject to certain conditions which are detailed below:
First of all, only certain travellers are able to benefit from this simplified system to travel to the USA or to transit through it. The ESTA is a sort of agreement signed between the United States and a list of countries, 38 to date, that meet certain specific conditions. Of course, the United Kingdom, Germany, France and Italy are among them. It is therefore imperative to be a national of one of the countries on this list to be able to benefit from this ESTA.
Another condition concerns the reason for the trip to the USA that you wish to make with this ESTA. You will not be able to travel to the USA to work, study or settle there permanently with this authorisation and you will have to apply for a traditional visa corresponding to your situation. The ESTA authorisation only covers tourist visits and possibly visits to family or friends. Of course, the ESTA also works for transit through American airports or for stopovers in the country.
The duration of your stay in the USA with your ESTA is also limited. Indeed, you cannot stay more than 90 consecutive days on American soil with this authorisation. Here again, longer stays require a specific visa.
Finally, it is also necessary to have a valid biometric or electronic passport that covers both your outbound and inbound flights to be able to use an ESTA to travel to the USA, even if your final destination does not require a passport.
Once obtained, the ESTA authorisation is valid for a period of two years and can therefore be used by the traveller for several stays, transits or stopovers in the USA as long as the conditions mentioned above are met and no major changes have occurred since the first application.
What are the steps to obtain an ESTA for transit to the USA?
Now that you have understood what ESTA authorisation is and why you need to obtain it before transiting or stopping over in the USA, let's get down to business and explain how you can obtain this official document.
First of all, let's look at when it is best to apply. As we will explain below, obtaining an ESTA is very quick and takes only a few hours on average. It is therefore tempting to apply just before your trip. However, to ensure that you do not encounter any major problems when applying for an ESTA, we advise you to apply at least two weeks before your departure date.
To begin with, and given that the ESTA is a 100% electronic system, you must make your application online by accessing a specific form which is made available to you by the official website or by various specialised sites such as the one we recommend on this site. The procedure is relatively quick and will only take a few minutes at most. Remember also to have your electronic or biometric passport number with you, which will be requested as part of this application.
In the application form, you will of course need to fill in your full identity as it appears on your passport as well as your passport number and a valid email address. This email address is important as it is the one to which the reply to your application will be sent. You will then be asked to answer a number of questions including the reason for your upcoming trip to the USA. Here you can check the box "Transit" as far as we are concerned. You will also be asked other questions about the security of the country, such as questions about your criminal record or the countries you have previously visited. It is very important to check all the answers you have given to this questionnaire to avoid being refused ESTA authorisation because of a simple mistake. Of course, the answers you give must be reliable and correspond to reality.
Once you have completed these checks, you can proceed to pay the fees online. This payment is only made electronically and you will not be able to send a cheque or pay in cash. Of course, payment by credit card will be made on a secure server. Only once these fees have been paid will your application be transmitted to the American authorities in charge of studying the files.
Your request will be answered directly by email and within a maximum of 72 hours from the time you register your request. However, in reality, it is common to receive a response within a few hours. If you do not find the reply email after this time, check your spam or junk mail folder. The email you receive will indicate the status of your ESTA, i.e. "Accepted", "Refused" or more rarely "Pending". If your ESTA is accepted, you will not have to do anything else. The ESTA is a dematerialised residence permit that is electronically and automatically attached to your passport. You therefore have no physical document other than this passport to present when you are in transit and therefore nothing to print. However, we still advise you to keep a record of your application, especially if you plan to use this ESTA again on future trips to the United States.
Does the ESTA guarantee that your stopover in the USA will be successful?
We would also like to draw your attention to the fact that obtaining ESTA authorisation in no way guarantees that you will be allowed to travel to the USA. In fact, it is only a means of control put in place by the American authorities in order to more easily identify people who may present a risk to national security. When transiting the USA, you may be required to undergo an additional check by an immigration officer who is entitled to refuse you entry for any other reason.
Remember, for example, to apply for ESTA authorisation for any children travelling with you, even if they are minors, and to have their passports available at the time of the trip. But in the vast majority of cases, this ESTA will allow you to travel through the USA in complete peace and quiet and even to do some sightseeing if you have the time between your two flights to visit the area around the airport.
Does the validity of the ESTA have to cover the whole of your trip when simply transiting the USA?
We now turn to the thorny question of how long the ESTA authorisation is valid for a simple transit in the country. Many travellers wonder whether this authorisation should cover only the date of transit or stopover or the entire duration of the journey until the return to the UK.
In reality, the answer to this question depends on several parameters. What you need to remember here is that whatever happens, you must have a valid residence permit each time you enter the United States. So, depending on the case, here is how you should organise yourself:
If your journey involves transit through the USA only on the outward journey and not on the return journey, there is no need for this authorisation to be valid at the time of your return flight as you will not be passing through the USA. You simply need to ensure that this authorisation is valid on the day of your transit.
If your trip involves transit through the USA on both the outward and return journeys, you must of course have a valid ESTA authorisation on both dates. However, it is not necessary for your ESTA to cover the entire duration of your trip. Let's imagine that your ESTA expires during your trip, i.e. after your first transit on the outbound leg. In this case, all you need to do is apply for a new ESTA to renew your authorisation before the date of your second transit on your return. Some travellers prefer to renew their ESTA before the date of departure, even if it has not yet expired, so that they do not have to do this from abroad.
It is also very important to mention here the case of the passport and its validity for your various transits in the USA. Indeed, you must have a valid passport at the time of your outward and return flight and this passport must be valid for at least 6 months after your last transit in the USA. Also, if your passport is due to expire soon, you must renew it before your departure and even before applying for ESTA authorisation online. Remember that the ESTA will automatically be linked to the passport number you entered on the form. If you change your passport and therefore your passport number before your trip, it will be impossible for airport officials to consult this authorisation and you will not be able to board or transit through the USA.
How to make a stopover in the USA without ESTA authorisation?
As we have just seen in detail in this article, applying for an ESTA online if you are planning a trip with a transit or stopover in the USA is undoubtedly the easiest way to obtain the right to transit. This will save you precious time that you can devote to preparing the rest of your trip. However, there is no guarantee that this authorisation will be granted and some travellers end up receiving a negative response to their application. In this case, is it still possible to transit the USA?
In reality, it will depend on your ability to obtain another residence permit, as this is still mandatory. You have two possibilities here. If you are sure that you meet all the conditions necessary to obtain your ESTA and you think that the refusal is due to a simple error in filling in the form, you can of course reapply for an ESTA, this time checking your answers carefully. You will need to wait 10 days after being notified of your refusal.
If the reason for the refusal of your ESTA is different, you can always apply for a specific visa. Note also that some sites will refund the price of your ESTA if it is refused.
Do you have any doubts?
Check if your question has already been answered in the list below
If you are a national of a country eligible for the Visa Waiver Programme, you need an ESTA to transit or stop over in the USA. This formality is mandatory even if you do not leave the airport. The form to be completed and the fees are the same as for a traditional tourist ESTA. You can then use this ESTA for other trips, transits or stopovers in the USA.
It is recommended that you apply for an ESTA at least 72 hours before your departure, although most applications are approved within 24 hours. It is therefore preferable to apply in advance to avoid any risk of delay or refusal. We recommend that you apply for ESTA several weeks before your travel date to avoid any problems in the event of refusal or delay in processing.
To apply for an ESTA for a transit or stopover in the United States, you must provide the following information: your valid passport, your personal details, your travel itinerary and your contact information. It is also recommended that you have return flight tickets to prove your transit or stopover.