Tourism: Requirement and online form of the evisa for Laos
Find out how to obtain your Laos e-visa easily. Tips for successful tourist trips. Explore Laos with peace of mind.
Apply for a visa for Laos!
Read more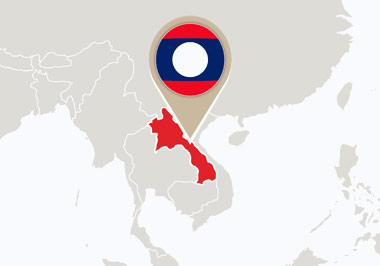 When planning a tourist trip to Laos, it's essential to understand the entry requirements and administrative formalities. One of these key formalities is obtaining an e-visa for Laos, a convenient option for travellers. On this page, we'll briefly introduce you to what a Laos e-visa is and why it's crucial to know the entry requirements before you set off to explore this beautiful South East Asian country. By understanding these elements, you'll be better prepared for a hassle-free and memorable trip to Laos. On this page, we'll explain everything you need to know about the online visa for Laos, the procedure for obtaining it and the conditions to be met in order to obtain it.
What is an e-visa for Laos and what does it involve?
The e-visa, or electronic visa, is an electronic travel document that allows tourists to apply for their visa online before they leave for Laos. Unlike traditional visas, which require in-person visits to the embassy or consulate, the e-visa can be applied for from anywhere with an Internet connection. Once approved, it is usually sent by e-mail, eliminating the need to queue at border checkpoints.
The e-visa has a number of advantages over traditional methods of obtaining a visa. Firstly, it considerably simplifies the process, reducing the time and hassle associated with applying for a visa in person. In addition, it offers greater convenience, as travellers can submit their application from home or on the move using a simple online form.
Another major benefit of e-visa is that it reduces the risk of visa refusal on arrival, as the online application process makes it easier to check documents and information. This ensures that travellers have their visa in hand before they start their journey.
Finally, e-visa is also a more cost-effective option, as it can reduce processing fees compared to traditional visas. By understanding these benefits, travellers can make an informed decision about which type of visa is best for their trip to Laos.
What are the entry requirements for Laos and the visa requirement?
To obtain an e-visa for Laos, you will need to provide certain essential documents. Requirements may vary, but generally you will need the following:
A valid passport with at least six months validity remaining from the date of intended entry into Laos.
A recent passport photo in accordance with Laos specifications.
A valid e-mail address to receive your e-visa.
Details of your travel itinerary to Laos, including arrival and departure dates.
It is crucial to gather all these documents and upload them correctly when filling in your e-visa application form to avoid any delays or refusals.
The period of validity of the e-visa for Laos varies according to the type of visa you are applying for. Generally, tourist e-visas are valid for between 30 and 60 days from the date of entry into the country. Be sure to check the specific validity period of your e-visa when you apply and plan your trip accordingly.
Although e-visa is a convenient option, there may be specific travel restrictions for certain areas or regions of Laos. It is advisable to consult the relevant authorities or official websites for up-to-date information on areas where the e-visa can and cannot be used.
By understanding the entry conditions linked to the e-visa for Laos, you can better prepare for your trip and avoid any inconvenience on arrival.
What is the procedure for obtaining an e-visa for Laos?
If you're planning to travel to Laos in the near future, we'd like to introduce you to the detailed procedure for applying for and obtaining an e-visa:
Go to the official Laos e-visa application website or to a website run by a private visa application service provider.
Create an account or log in if you already have one.
Fill in the online application form accurately, providing all the information required. You must enter personal details as well as information about your future trip to Laos.
Upload the necessary documents, such as your passport photo and a copy of your passport.
Pay the e-visa processing fee using the payment options available. These fees can usually be paid by credit card or other electronic payment methods.
Submit your application online.
It is essential that you complete the form accurately and upload the documents as required to avoid any delays in processing your application.
The cost of obtaining an e-visa for Laos varies according to the length of validity of your visa and other factors. It is advisable to check the official e-visa application website for current fees and accepted payment options.
The processing time for the Laos e-visa may vary depending on the workload of the embassy or consulate and other factors. However, it is generally advisable to submit your application at least a few weeks before your intended travel date to ensure you receive your e-visa in time. Once approved, your e-visa will usually be sent to you by e-mail.
It is essential to respect the processing times and follow the issuing procedure carefully to avoid any inconvenience on arrival in Laos.
Our advice for travellers to Laos:
Here are a few practical tips to help you prepare for your trip to Laos. Before setting off on your trip to Laos with an e-visa, there are a few things you should bear in mind:
Check the validity of your passport and make sure it has at least six months' validity left from the date of entry into Laos.
Download a copy of your e-visa and keep it with you during your trip, preferably in electronic form on your phone or a USB key.
Find out which areas of Laos you plan to visit and make sure that the e-visa is valid in those areas.
A few important reminders for travellers with an e-visa:
Respect the validity period of your e-visa. Do not exceed the departure date indicated on your e-visa.
Keep a copy of your e-visa with you at all times. You may be asked to show it on arrival or during your stay in Laos.
Be aware of any travel restrictions in certain areas of Laos. Consult the official information to avoid any problems.
For a hassle-free trip to Laos with your e-visa, here are a few additional tips:
Familiarise yourself with local customs and regulations.
Take health precautions, such as recommended vaccinations, before you leave.
Make sure you have adequate travel insurance to cover any unforeseen events.
By following these tips, you'll be able to enjoy your trip to Laos with complete peace of mind.
Do you have any doubts?
Find out if your question has been answered in the list below
The Laos e-visa is generally available to nationals of many countries. However, the list of eligible countries can vary, so it's important to check whether your country of residence is authorised to use this option. You should also make sure that your trip is for tourist purposes, as the tourist e-visa is specifically designed for leisure travel. If you wish to travel to Laos for any other reason, you will need to apply for a specific visa.
The processing time for a Laos e-visa may vary depending on various factors, including the time of year and the workload of the embassy or consulate. As a general rule, it is advisable to submit your application at least a few weeks before your planned date of travel. This allows sufficient time for your e-visa to be processed and received. It is also advisable to check the status of your application regularly. Generally, you can obtain an online visa for Laos in just a few days.
As a general rule, the e-visa for Laos cannot be extended once you are in the country. If you plan to stay longer than the validity of your e-visa, it is advisable to leave Laos before your visa expires and to make a new application if necessary. Make sure you comply with all the conditions of your e-visa to avoid any problems during your stay. The new visa application can then be made without delay.