Is a visa required to transit through Australia?
Find out about Australia's transit visa requirements and practical tips for a smooth stopover. Get your visa online.
Apply for a visa to Australia!
Read more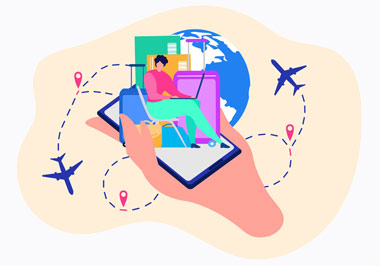 Australia, with its vast expanses of land and vibrant cities, is a popular transit destination for many travellers from around the world. Stopovers in Australia often provide an opportunity to briefly explore this beautiful country, but they also raise questions about visa requirements. When planning a trip involving a stopover in Australia, it is essential to understand the transit visa requirements. This process may seem complex, but it is crucial to ensure a smooth transition through Australian airports. This page aims to clarify these requirements and explain transit visas in detail, with particular emphasis on the eTA and eVisitor, to make your journey to Australia as smooth as possible.
Understanding Australia's Transit Visa Requirements
A transit visa is a special authorisation that allows travellers to stop over in a country en route to their final destination, without intending to leave the airport. In Australia, this means that you can pass through an Australian airport without having to obtain a standard tourist visa. Understanding the details of this type of visa is crucial to avoid any confusion during your stopover.
Australia offers a transit visa waiver for certain travellers transiting through an Australian airport. This generally applies to travellers who remain in the international area of the airport and do not clear Australian customs. However, it is essential to know the specific exemption criteria to avoid any complications.
For travellers with long stopovers in Australia or changing airports within the country, the rules can be more complex. For example, an extended stopover may require a standard visitor visa. Understanding the specific requirements for these situations is essential to planning your trip with confidence. The next section will look at the eTA and eVisitor, two types of visa that can be used for a stopover in Australia.
The special case of the eTA and eVisitor for a transit or stopover in Australia
The eTA, or Electronic Travel Authority, is a type of electronic visa that allows eligible travellers to visit Australia for tourism or business purposes. It is generally valid for 3 months per visit and can be obtained online. The eTA is a convenient option for travellers in transit through Australia, as it allows a short stay in the country without the need for a standard visitor visa.
The eVisitor visa is another option for travellers in transit through Australia. It is specifically designed for nationals of the European Union and certain other European countries. Like the eTA, the eVisitor visa allows a tourist or business stay in Australia for up to 3 months per visit. It can also be obtained online and offers a practical solution for stopovers in Australia.
For travellers in transit through Australia, the eTA and eVisitor offer an excellent option for meeting transit visa requirements. You can use the eTA or eVisitor for a stopover in Australia as long as you do not leave the international area of the airport. These visas are usually issued quickly and allow you to enjoy your stopover with complete peace of mind.
How do I obtain an Australian transit visa online?
The process of applying for a transit visa to Australia is generally straightforward and can be completed online. Here are the basic steps for obtaining a transit visa:
Identifying the right visa: Find out which transit visa best suits your situation, either the eTA or the eVisitor, depending on your nationality.
Access the site: Go to the official Australian government website or to a service provider specialising in visa applications and follow the instructions provided.
Fill in the online form: Fill in the online application form accurately, providing all the information required, such as your personal details, your nationality, your travel dates, and the reason for your stopover in Australia.
Application fee: Pay the Australian visa application fee. Costs vary depending on the type of transit visa chosen.
Receipt of visa: Once your application has been approved, you will receive your transit visa by email. Make sure you print out a copy of this document to present when you stop over in Australia.
The documents required to apply for an Australian transit visa vary depending on the type of visa you choose. As a general rule, you will need the following items:
Valid passport: Your passport must be valid for the duration of your stay in Australia.
Plane tickets: A copy of your plane tickets to prove your transit itinerary.
Means of payment: A credit card or other means of payment for the visa application fee.
The fees associated with applying for a transit visa vary according to nationality and type of visa. Be sure to check these fees on the site you have chosen to find out the current costs and how to pay. You should also bring an electronic payment method such as a bank card to pay these fees securely.
Our practical advice for stopovers and transits in Australia
First of all, remember to prepare well for your stopover in Australia by taking the following tips into account:
Length of stopover: Consider the length of your stopover in Australia. If you have a few hours to spare, consider taking a short trip to explore the airport or surrounding area. If the stopover is short, plan to stay in the international zone.
Transit visa: Make sure you have obtained the appropriate transit visa (eTA or eVisitor) before you travel. Check its validity date to ensure that it covers the entire duration of your stopover.
Flight schedule: Knowing your itinerary in detail is essential. Make sure you don't miss your connecting flight by regularly checking the departure boards.
Also check out the entertainment and relaxation options at the airport with :
Shops and restaurants: Most Australian airports offer a variety of duty-free shops, restaurants and cafés. Take the opportunity to sample local cuisine or go shopping.
Airport lounges: If you have access to an airport lounge, this can be a great option for relaxing. Lounges often offer comfortable seating, free refreshments and sometimes even showers.
Free Wi-Fi: Many Australian airports offer free wifi access, so you can stay connected with loved ones or work during your stopover.
Cultural activities: Some airports have art exhibitions, cultural facilities and relaxation areas specially designed for travellers.
Resting: If you need a rest, look for siesta areas or deckchairs where you can lie down comfortably.
By following these tips, you can make your stopover in Australia as enjoyable as possible, whether it's to relax before your next flight or to explore the country briefly. The following section will answer frequently asked questions about transit visas in Australia.
Do you have any doubts?
Check if your question has already been answered in the list below
It all depends on your nationality, the length of your stopover and your itinerary. Most travellers in transit through Australia need a transit visa, such as an eTA or eVisitor, to comply with Australian immigration requirements. However, some nationalities benefit from a transit visa exemption for short stopovers.
You can apply for an Australian transit visa online via the Australian government's official website. You will need to complete an online form, pay the appropriate application fee, and provide the required documents, including your passport and flight itinerary. Transit visas, such as the eTA and eVisitor, are usually issued quickly.
As a general rule, with a transit visa (eTA or eVisitor), you are not allowed to leave the international area of the airport. However, if your stopover is long enough and you have obtained a standard visitor's visa, you may consider going out to explore the area around the airport. Make sure you comply with the conditions of your visa to avoid any problems.