Do I need a visa for Myanmar and how do I get one?
Would you like to obtain a visa for Myanmar quickly? Apply online now and get your e-visa as quickly as possible thanks to the website of the service provider we have selected.
Apply for a visa for Myanmar
Read more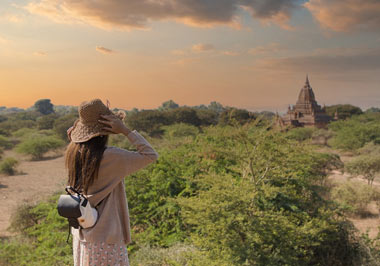 If you are planning to visit Myanmar (formerly Burma) in the near future, you should be aware that you will need a visa to enter the country. The country has strict immigration regulations, requiring foreign nationals to have a passport and a residence permit, whether for tourism or business. The good news is that you are no longer obliged to apply for a traditional visa, which is often long and tedious. You can now apply for a visa directly online, as we will now explain.
What is the online visa procedure for Myanmar?
The procedure for applying for a visa online, also known as an e-visa to travel to Myanmar was introduced in September 2014. This is a system that makes it possible to avoid the long wait and travel previously required to obtain a visa, which notably required going to the Burmese consulate or embassy in your country of residence.
Thanks to the online e-visa procedure, nationals of certain countries covered by the scheme can now obtain a visa by making a simple online application. This visa can be used for different types of stay in Myanmar, such as tourism or business. It is valid for stays of up to 28 days. If you wish to stay longer, you will need to apply for a regular visa.
As you will have realised, you can apply for a Myanmar e-visa directly online. All you need to do is visit the official website or a website specialising in this type of service, such as the one we recommend on our website, which will give you access to an online application form in English.
To follow the e-visa application procedure for Myanmar, don't forget to have certain information and documents ready, such as your passport and a passport photo. Please note! When you fill in the online application form, you will also need to provide an address in Myanmar, i.e. the address of the hotel where you intend to stay during your stay or the address of the relative who will be putting you up, if applicable.
As we will see in more detail below, the processing time for this online e-visa application is relatively short, as you will receive a response within a maximum of 3 days. In most cases, you will receive a reply within 24 hours. If your application is accepted and you have been granted leave to remain, you will receive an e-mail containing a document as an attachment. You will need to download and print this document, which will be required when you arrive in the country.
It is also important to note that once you have obtained this document and visa, it will only be valid for 90 days, so you must ensure that you enter the country no later than three months after the date of issue of this document.
What documents do I need to present when applying for a visa for Myanmar?
As we have just seen, the online visa application procedure is relatively quick and simple. However, whichever method you choose, you will need to prepare certain documents that are essential for obtaining a visa for Myanmar and that will depend on the type of visa you are applying for, i.e. a tourist visa or a business visa.
If you are applying for a tourist visa, you will need to prepare the following documents:
The order form you fill in online using the visa application form. This will be validated directly on the website you have chosen to make your application and sent to the Burmese authorities.
A valid passport valid for at least 6 months. For the e-visa, you must scan a copy of this passport and send the pages containing your identity details.
Two recent passport photos if you are applying for a traditional visa, or a photo that you can scan if you are applying for an online visa. Please note! The photo must be in the correct format and meet the official standards, which will be detailed on the website. Note also that these photos must be recent and less than 3 months old.
If you are applying for a traditional passport-based visa, you will also need to produce the specific visa application form that you will have printed out and filled in.
If you wish, you can also produce an official Arrival in Myanmar form.
Finally, in the case of a traditional visa, you will also need to produce a copy of your travel documents, i.e. your plane tickets with the dates of departure and return.
If you are applying for a business visa, the list of documents and supporting evidence is slightly different:
You can also fill in the order form online using the specific form provided by our partner website.
As with your tourist visa, you must have a passport that is valid for at least 6 months.
You will also be asked for 2 passport photos. Again, they must meet current standards and be less than three months old.
In the case of a standard application, you must provide an official visa application form printed and completed in advance.
In this case, the official Myanmar arrival form is compulsory and not optional.
People travelling to Myanmar on business must also provide a certificate or letter from the company employing them stating the reasons for the mission, as well as a certificate covering repatriation costs or any other expenses.
An accommodation certificate may also be required. This must be provided by your company.
You may also be asked to provide a letter of invitation from a local correspondent, if this applies to you.
How quickly can I obtain a visa for Myanmar, formerly Burma?
If you are currently planning a trip to Myanmar, you probably need to know when to apply for a visa or e-visa. The processing time, and therefore the time needed to obtain this document, varies according to the method you choose.
If you apply for a standard visa, you should allow around 6 days after submitting your full application before the document is processed and issued. Of course, we are talking about working days here. The application must also be complete, because if any documents or information are missing, the application may be postponed and the processing time will be longer.
It should also be noted that the processing time announced can also vary according to the period and can be modified without notice by the Burmese authorities. If the Myanmar embassy is very busy, the processing time may be longer, but it may also be shorter if there are few applications. It should also be noted that certain periods when the embassy is closed may increase the processing time. This is particularly the case in April and during the Burmese New Year, when the embassy is closed for several days. During this period, no visas are issued.
The time taken to obtain an e-visa is slightly shorter. If you apply for a Myanmar visa online, you will only have to wait a maximum of 3 days for your application to be processed, and it often takes just a few hours to receive the confirmation email.
When should I apply for a Myanmar visa?
As far as the ideal time to apply for a Myanmar visa is concerned, remember that this visa is valid for a maximum stay of 28 days. However, this visa can be used within 3 months (90 days) of being issued.
It should also be remembered that since 2010 it has no longer been possible to obtain a visa on arrival in this country, so it is now necessary to obtain this visa before travelling to Myanmar. An e-visa, or online visa, remains the most practical solution.