Do I need and how can I obtain a visa for Ivory Coast?
If you are planning to travel to Ivory Coast in the near future, you can apply for an e-visa online today via our partner service provider for a rapid response.
Apply for a visa to Ivory Coast
Read more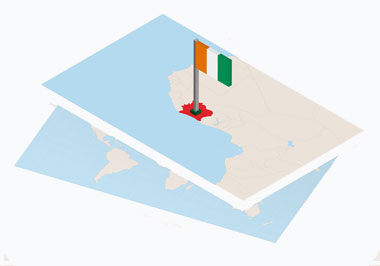 If you're a traveller looking to visit Ivory Coast for tourism, you may be aware that this destination requires an official visa to enter. Previously, the entire visa application procedure had to be done at an Ivorian embassy or consulate in your country of residence. Since 2017, however, you can now apply for a visa online using the e-visa system, which we will explain in more detail here.
What is the e-visa system and how does it work?
As we explained in the introduction, there is now a simple and effective way of obtaining a visa to travel to Ivory Coast without having to go to an embassy or consulate.
In fact, since 2017, the Ivory Coast government has set up a system that allows you to obtain a visa for the purpose of travelling to this country, whether for tourism or for a business trip. The system, as its name suggests, works entirely online, so there's no need to travel at all. All you have to do is follow the procedure detailed below, and in just a few days you'll receive your precious official document authorising you to travel to Ivory Coast.
As we'll see below, once you've received confirmation that your Ivory Coast e-visa application has been registered, all you have to do is collect the visa when you arrive at Abidjan airport, as this is the only place where you can pick it up at the moment.
Of course, the e-visa system will make things much easier for travellers to Ivory Coast. This is an online process that allows you to apply for an entry visa from any country or region in the world. There are many advantages to using this procedure, and the system guarantees that you will obtain your visa as quickly as possible and directly over the Internet. As we'll see below, you can even pay your fees directly online.
Is it required to obtain a visa to travel to the Ivory Coast?
Many people who like to travel wonder whether a visa or e-visa is really essential and required to travel to the Ivory Coast. The answer to this question is simple: yes, such an official document is of course required for travel to this country.
All foreign nationals, including British nationals, must be in possession of this document in order to enter Ivory Coast. But this is not the only legal requirement to be met before your stay.
You must also be in possession of a valid passport, valid for the entire duration of your stay.
You will also be asked to certify that you have been vaccinated against yellow fever by presenting your vaccination certificate when you arrive at the airport.
Finally, you will also need to provide proof of your travel dates by presenting an outward and return travel ticket, or even a travel continuation ticket with visas or residence permits for the following country or countries where these are required.
Fortunately, thanks to e-visa service sites such as the one we present on this page, these procedures are greatly simplified and can be completed in just a few minutes using a simple Internet connection.
Finally, nationals of certain specific countries are exempt from visa requirements when entering Ivory Coast. Here is the list of countries concerned. These are mainly ECOWAS member countries such as Benin, Burkina Faso, Cape Verde, Gambia, Ghana, Guinea, Guinea Bissau, Liberia, Mali, Niger, Nigeria, Senegal, Sierra Leone and Togo. Other countries such as the Central African Republic, the Republic of Congo, Morocco, Mauritania, the Seychelles Islands, Singapore, Chad, Tunisia and the Philippines are also among those whose nationals are exempt from the Ivory Coast visa requirement.
How long is a visa valid for Ivory Coast?
Another question that many travellers ask themselves, and which we are now going to answer, concerns the period of validity of a visa for Ivory Coast. It's worth knowing this information if you want to apply for your visa at the right time, depending on your departure date, or if you want to visit the country several times.
In fact, the Ivory Coast visa has a special feature in that the start of its period of validity corresponds to the date of arrival in the country, not the date on which the application is made. However, this date must be indicated on the visa application form beforehand, as must the date of exit.
The visa for Ivory Coast is a single-entry visa. This means that you can only use it for a single trip to the country.
What documents and evidence do you need to enclose with your visa application?
When applying for an e-visa for Ivory Coast, you will need to provide a number of supporting documents. The following factors must be included in your application:
Your visa order form. This is the form you will fill in online on the official website or the e-visa application website of your choice.
A passport photo. This must, of course, comply with the standards and rules in force, particularly as regards its format. The official format is 4.5 x 3.5cm.
You must also be in possession of a valid passport valid for at least 6 months after the date of your return. You will be asked for your passport number when you fill in the online e-visa application form. Plan to take a copy of this passport with you.
You should also bring your flight ticket with the dates and details of your outward and return flights.
You may also be asked for an accommodation certificate, such as a hotel booking confirmation showing the dates and total length of your stay. You may also be asked to provide a certificate of accommodation drawn up by an Ivorian resident and accompanied by a copy of his or her identity card.
Finally, you will also need to provide a copy of your vaccination booklet showing the yellow fever vaccine.
How do I apply for an e-visa for Ivory Coast?
We're now going to explain a little further how you can obtain your Ivory Coast visa as quickly as possible using the e-visa system. All you need to do is follow these few simple steps:
The first thing to do is to find a site where you can access the online e-visa application form as easily as possible. This is the case with the official site or the one we recommend on this page, which will offer you a quality service at the best price.
Once you are on this site, you will be taken to a simple form that you will need to fill in very carefully. You will be asked to provide a certain amount of information about yourself, such as your identity, postal address and other details, including your passport number, as well as information about your trip and your stay, such as your dates of entry to and exit from Ivorian territory and the place where you will be staying.
You may then be asked to provide certain supporting documents to complete your application, including some of those listed above.
Once you have checked your application, you can validate it and pay the required fees online. This payment will be made by credit card on a secure server, so there is no risk of fraud.
The waiting time for a reply to your visa application is just a few days, and you will be informed by email when your visa has been issued. You can then collect your visa when you arrive in Abidjan.