Visa for Madagascar: Online application form and price
Obtain your e-visa for Madagascar easily. Find out visa prices and track your application in real time. Practical advice included.
Apply for a visa for Madagascar!
Read more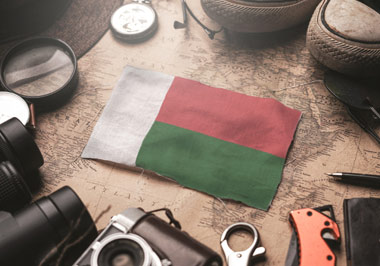 When you dream of discovering the natural and cultural treasures of Madagascar, one of the first essential steps is to obtain a tourist visa. This visa is your key to exploring this enchanting island, but it can sometimes feel like a challenge. That's why we've set up this page dedicated to understanding and applying for a tourist visa for Madagascar. Madagascar, with its unique biodiversity, sandy beaches and breathtaking scenery, attracts travellers from all over the world. A tourist visa is the legal authorisation required to visit this jewel of the Indian Ocean. In this section, we take a closer look at this visa, its requirements and entry conditions. In an increasingly connected world, applying for a tourist visa for Madagascar has kept pace with digitalisation. The online application form has become an essential tool for simplifying the process. This page will guide you through the use of this online form, highlighting the advantages it offers and the steps to follow to submit an application with ease.
What is the procedure for applying for a visa for Madagascar online?
Applying online has many advantages for travellers looking for simplicity and efficiency. The main advantages are as follows
24/7 accessibility: You can submit your application at any time, day or night, from anywhere with an Internet connection.
Time-saving: The online process is faster than traditional methods, so you can get your visa faster.
Real-time tracking: You can track the status of your application in real time, so you'll always know how it's progressing.
Data security: Your personal information is secure, so your application remains confidential.
To help you navigate the online application process, here are the main steps to follow:
Create an account: The first step is to create an account on the official website or online application platform. You will need to provide some basic personal information to obtain a login.
Fill in the application form: Once your account has been created, you will need to fill in an online application form. This is a crucial step, during which you will provide details of your trip, itinerary and contact details.
Upload required documents: You'll need to upload essential documents such as your passport, a recent photo and other required documents. Make sure these documents are in high-quality digital format.
Pay the visa fee: Once you have completed the form, you will need to pay the visa fee. Online payment methods are generally accepted, so make sure you have the necessary payment details to hand.
The online application process can seem daunting, but don't worry. Private providers often offer technical assistance to help you navigate the form. Don't hesitate to contact their support team if you have any questions or technical problems.
How much does a tourist e-visa for Madagascar cost?
There are costs involved in obtaining your tourist visa for Madagascar, and it's essential to understand the different components of the price. This section will tell you about visa processing fees, service provider fees and payment methods.
The visa processing fee includes the government tax imposed by the Malagasy authorities. The cost of your visa depends on how long it is valid. Here is an overview of prices and processing fees for tourist visas for Madagascar:
Valid for 15 days: A single-entry electronic tourist visa will cost you USD 10 per applicant.
Valid for 30 days: If you plan to stay for a month, the cost of a single-entry e-visa is USD 37 per applicant.
Valid for 60 days: If your trip requires a longer stay, a 60-day single-entry electronic tourist visa is available at a cost of USD 45.00 per applicant.
This fee is intended to cover the administrative costs involved in issuing the visa by the Malagasy authorities.
In addition to the government processing fee, there may be service fees charged by private service providers who help you with the online application process. These service fees vary depending on the service provider you choose. Before submitting your application, be sure to check the specific service fees of the service provider you have chosen. These fees may vary, but this can help to make the process smoother.
To pay for visa processing and service fees, most providers accept common online payment methods such as credit cards, debit cards and sometimes PayPal. Make sure you have a valid method of payment to hand when you submit your application.
How long does it take to process an online visa application for Madagascar?
One of the key elements of applying for a tourist visa for Madagascar is understanding how long it takes for your application to be processed, as well as how to track its progress. This section will shed light on these crucial aspects.
The time it takes to process your visa application can vary depending on a number of factors, including the time of year and the workload of the Malagasy authorities. In general, here's what you can expect in terms of the average processing time for an electronic tourist visa for Madagascar:
Valid for 15 days: Processing may take a few days, but is often quicker due to the shorter validity period.
Valid for 30 days: Tourist eVisas valid for 30 days generally take between 2 and 5 working days to be approved.
Valid for 60 days: Tourist eVisas valid for 60 days generally have a similar processing time to visas valid for 30 days.
It is advisable to submit your visa application several weeks before your trip to avoid unnecessary stress.
Our advice for a successful e-visa application for Madagascar
Applying for a tourist visa for Madagascar can go smoothly if you follow certain recommendations. This section will provide you with essential advice to ensure that your application runs smoothly.
To avoid any delays or problems when processing your application, make sure you have all the required documents to hand. The essential documents for a tourist visa application for Madagascar generally include:
Passport: Make sure your passport is valid for at least six months beyond the date of your departure from Madagascar.
Recent photo: Provide a recent photo that meets the specified standards, usually of the passport type.
Travel itinerary: Provide a detailed travel itinerary, including accommodation bookings and flight plans.
Proof of financial means: The Malagasy authorities may ask you to prove that you have the financial means for your stay.
Proof of travel insurance: Travel insurance covering Madagascar is often required. More details on insurance will be covered in the next section.
To increase your chances of obtaining your visa smoothly, avoid common mistakes that applicants may make. Here are some examples of these mistakes:
Inaccurate information: Providing incorrect or inaccurate information on the application form can result in your visa being refused. Make sure all information is correct.
Last minute: Avoid submitting your application at the last minute. Give yourself enough time for the process to run smoothly.
Incomplete documents: Do not submit an application with missing documents. Make sure that all the required documents are complete.
Unpaid fees: Make sure you pay all processing and service fees correctly and on time.
Do you have any doubts?
Find out if your question has been answered in the list below
The tourist visa for Madagascar is available for three validity periods: 15 days, 30 days and 60 days. You can choose the one that best suits the duration of your trip. Make sure you submit your application in good time to avoid any unnecessary stress.
The essential documents for applying for a tourist visa for Madagascar include your valid passport, a recent passport photo, a detailed travel itinerary, proof of financial means for your stay, and proof of travel insurance covering Madagascar. Make sure that all the documents are complete and comply with the requirements.
To track the progress of your application online, log in to your account on the website of the service provider you have chosen. Then go to the visa application tracking section. Enter your application tracking number or the reference number provided when you submitted your application. This will keep you informed in real time of the progress of your visa application.