What do I need and what documents do I need for Egypt?
Get your visa for Egypt: online e-visa, exemptions, period of validity. Everything you need to know about entry formalities before you leave.
Apply for a visa for Egypt!
Read more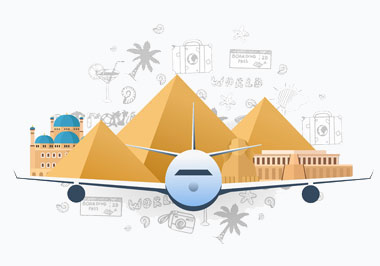 When planning to travel to Egypt, it is essential to be aware of the entry conditions and formalities required. The Egyptian authorities have established specific rules concerning entry documents, such as passports and visas, to ensure safe and regular entry into their territory. Finding out about these requirements in advance is crucial to avoid any inconvenience or problems when you arrive in Egypt. The aim of this page is to provide you with all the information you need about the conditions for entering Egypt. We will cover essential documents such as passports and visas, as well as other formalities required on arrival. You will learn about the specific requirements for a tourist visa, the application procedures, and any additional documents that may be required. What's more, we'll provide you with practical advice to make the process easier and ensure your trip to Egypt runs smoothly.
Passport requirements for travel to Egypt
When travelling to Egypt, it is essential that your passport is valid. The Egyptian authorities generally require your passport to be valid for at least six months from the date of your intended entry into the country. It is therefore advisable to check the expiry date of your passport before you leave and renew it if necessary.
You should also make sure you have enough blank pages in your passport. The Egyptian authorities may affix entry and exit stamps, as well as visas, to specific pages. It is advisable to have at least two or three blank pages to allow these formalities to be carried out without any problems.
If you are travelling on a diplomatic or service passport, special requirements may apply. Please check with the Egyptian embassy or consulate for specific information and instructions on entry formalities for these types of passport.
It is essential to take these passport requirements into account to ensure trouble-free entry into Egypt. Always check the validity of your passport, the number of blank pages remaining and any special provisions for diplomatic or service passports before you travel. By complying with these conditions, you can avoid administrative complications and make the most of your stay in Egypt.
Visa requirements and formalities for travel to Egypt
A visa is an official document issued by the Egyptian authorities authorising entry and temporary residence in Egypt. It is essential to understand the role of the visa and the associated conditions to avoid any problems during your trip. The visa regulates the length of your stay, the purpose of your visit and may specify the geographical areas you are allowed to visit.
It is important to note that certain countries benefit from visa exemption for a tourist stay in Egypt. This means that nationals of these countries can enter Egypt without a visa for a limited time, generally for tourist stays of up to 30 days. However, it is advisable to check the current regulations before travelling to ensure that you are eligible for visa exemption.
For travellers who do not benefit from visa exemption or for longer stays, different types of visa are available. Common visa types include tourist, business, student and work visas. Each type of visa has its own specific conditions and requirements.
The period of validity of a visa may vary depending on the type of visa and the reason for your visit. Tourist visas, for example, are often valid for 30 days, 90 days or 180 days from the date of issue. It is important to respect the period of validity indicated on your visa and not to exceed the authorised deadline to avoid any problems during your stay.
The advantages and formalities of an online e-visa for Egypt :
Egypt now offers an e-tourist visa, also known as an electronic visa, which allows travellers to apply for and obtain their visa online before their departure. This simplifies the application process and avoids queues on arrival in Egypt.
The requirements for obtaining a tourist e-visa vary depending on your nationality and the reason for your visit. Common requirements include possession of a valid passport, personal details and travel documents such as accommodation bookings and return flight tickets.
When applying for a tourist e-visa, you will need to provide certain documents such as a copy of your passport, a recent photograph, proof of your travel itinerary and other personal information. It is important to follow the instructions carefully when applying online.
The e-tourist visa offers a convenient option for obtaining your visa in advance of your trip to Egypt. Make sure you meet the eligibility requirements and provide the required documents for a trouble-free application.
If you would like to obtain an e-visa or online visa for Egypt quickly, we recommend that you apply for one from the official website or from a quality private service provider such as the one we recommend here.
Other formalities to be aware of when arriving and travelling in Egypt:
Customs checks: When you arrive in Egypt, you will have to go through customs checks. Customs officers may carry out random baggage inspections to ensure that you are not carrying any prohibited or restricted items. It is important to comply with the customs regulations in force and not to attempt to bring in prohibited products such as drugs, weapons or perishable foodstuffs without authorisation*.
Security formalities: The Egyptian authorities attach great importance to the safety of travellers. You may have to go through security checks at the airport, including baggage scanners and metal detectors. You are advised to comply with the instructions of the security officers and to cooperate fully during these checks.
Currency declaration: If you are travelling with a large amount of cash, you must declare it on arrival in Egypt. The customs authorities may ask you to complete a currency declaration form. It is important to find out what currency limits are allowed and to comply with the regulations in force to avoid any problems on arrival or departure.
Complying with the formalities on arrival in Egypt is crucial to a trouble-free trip. Comply with customs checks, security formalities and currency declaration regulations. By following these procedures, you'll be able to start your stay in Egypt hassle-free and enjoy your travel experience to the full.
Do you have any doubts?
Check if your question has already been answered in the list below
Your passport must be valid for at least six months from the date of entry into Egypt. So make sure your passport meets this requirement before planning your trip. It is also essential to check this validity before applying for a visa for Egypt. If your passport is due to expire soon, it is advisable to renew it before starting this procedure.
Yes, EU nationals need a visa to travel to Egypt, unless they benefit from visa exemption for a tourist stay of less than 30 days. It is advisable to check current visa requirements before travelling. However, it is possible to save precious time by obtaining an online visa or e-visa, which you can obtain without going anywhere by going through the official website or a private website such as the one we recommend on this page.
To obtain a tourist visa online, you need to fill in an e-visa application on the official Egyptian government website or on the website of a private service provider offering online assistance. You will need to provide personal details, a copy of your passport and other required documents. Once your application has been approved, you will receive your e-visa by e-mail, which you will need to print out and present on arrival in Egypt.