How to include minors in your Australia visa application?
Family visas in Australia: eVisitor, classic visas and requirements for children travelling safely.
Apply for a visa to Australia!
Read more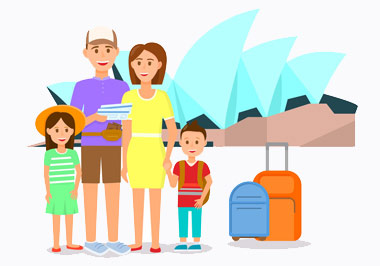 Travelling as a family is a valuable experience, and if you're planning to visit Australia with your children, it's essential to understand the Australia Group with Children visa application process. This page is dedicated to guiding you through the important steps and considerations when including minor children in your visa application. Navigating the administrative formalities for a family trip may seem complex, but with the right information, you can plan your trip with confidence, while complying with the regulations in force. Let's find out together how to make this trip memorable and hassle-free for the whole family.
The classic tourist visa for a family with children
When planning a family trip to Australia, the classic tourist visa is one of the options to consider.
The Classic Tourist visa, also known as the Visitor visa (subclass 600), is a suitable option for families wishing to visit Australia for tourism, family or leisure purposes. The application process involves the following steps:
Completing the online application form: Applicants, including minors, must complete the online application form, providing personal information, travel details and answering security questions.
Documents required: Documents required for minors may include a valid passport, signed parental authorisation (if one parent is travelling without the other), proof of parent-child relationship, and other specific documents.
Payment of Australia visa fees: A visa fee applies to each applicant. Please ensure that you pay this fee in accordance with the instructions provided when submitting your application.
Submitting the application: Once all the details have been provided and the fees paid, submit the application online. Each family member must submit their own application.
Minors travelling to Australia require specific documents. This includes a valid passport for each child. If one parent is travelling with the child without the other parent, a signed parental consent form may be required. This authorisation demonstrates the consent of the non-accompanying parent to the trip.
Processing times for Australia's traditional child tourist visas may vary depending on the time of year, the number of applications being processed, and other factors. In general, it is advisable to submit the application at least one to three months before the intended date of travel to allow for these potential delays. It is also advisable to consult the Australian Department of Home Affairs website for up-to-date information on processing times.
What is an eVisitor and how can it be used for a family visa application?
The eVisitor is a sub-clause of the Australian tourist visa that applies mainly to nationals of certain European countries. It allows visitors to stay in Australia for tourism, leisure or family purposes for a period of up to three months. If you are applying for a visa as a family with minor children, the eVisitor may be an interesting option.
Minor children are eligible for the eVisitor if they are included in the visa application of one of their parents or legal guardians. Eligibility requirements include possession of a valid passport and provision of proof of parent-child relationship, such as birth certificates. Parents must also ensure that they meet the eligibility requirements.
Processing times for eVisitors are generally shorter than those for traditional tourist visas. However, it is always advisable to submit the application at least one to three months before the planned date of travel to allow for any variations in processing times. eVisitor applications are processed electronically and quickly.
Introducing the eTA for families with children travelling to Australia
The eTA (Electronic Travel Authority) is another type of electronic visitor visa, mainly intended for eligible travellers from specific countries. Families with minor children can also use the eTA to travel to Australia. The eTA allows tourist or business stays of up to three months in Australia.
The eligibility conditions for minor children and their parents are similar to those for the eVisitor. Children must be included in the eTA application of one of their parents or legal guardians. Valid passports and proof of parent-child relationship are required.
The process of applying for an eTA as a family is simple and is done online. Each family member, including minor children, must complete an individual application form. Processing times are generally short, and once approved, eTA holders can travel to Australia without the need for physical visa stamps.
When considering a family trip to Australia, the eVisitor and eTA are convenient options to explore, offering fast processing times and easy online application. Make sure you meet the eligibility requirements and prepare the necessary documents for a smooth application.
Our advice and recommendations for a successful visa application with children :
If you want to make sure you get your visa for Australia in time for your family trip or have your children, here are a few recommendations and tips to follow:
Plan ahead: Start preparing your visa application well in advance. Processing times can vary, so it's wise to plan ahead.
Check the specific requirements: Check the requirements for the type of visa you are planning to obtain, whether it is a traditional tourist visa, an eVisitor or an eTA. Make sure you meet all the eligibility requirements.
Documents for children: Prepare the necessary documents for your minor children, including passports, birth certificates and any parental authorisation required.
Be clear about the period of stay: Make sure that the period of stay authorised by the visa is sufficient for your family trip to Australia.
Take out travel insurance: Consider buying travel insurance to cover your family members in the event of a medical emergency, trip cancellation or lost luggage.
Be aware of visa fees: factor visa fees for each family member into your travel budget.
A reminder of the requirements for child safety when travelling in Australia:
Your children's safety is paramount when travelling internationally. Here are a few important reminders:
Passports and documents: Make sure each child has a valid passport. Keep a copy of their travel documents, including birth certificates.
Parental authorisation: If one of the parents is travelling alone with the children, make sure you have notarised parental authorisation from the other parent, or the person with legal custody.
Health and safety: Take any medicines and medical supplies you need for your children with you. Familiarise yourself with emergency numbers and local health services in Australia.
Constant supervision: Keep a close eye on your children during the trip and make sure they follow the safety rules, whether on transport or during tourist activities.
Do you have any doubts?
Check if your question has already been answered in the list below
As a family travelling to Australia with children, you have several visa options. The most common are the Classic Tourist Visa (subclass 600), the eVisitor and the eTA (Electronic Travel Authority). Each of these visas has its own eligibility requirements and benefits, so it's essential to choose the one that best suits your needs.
Minor children included in a visa application must have a valid passport. In addition, you may need to provide proof of the parent-child relationship, such as birth certificates. If one parent is travelling without the other, a signed parental authorisation may also be required. Be sure to check the specific requirements of the visa you are applying for.
Visa processing times vary depending on the type of visa, the time of year and the volume of applications. In general, it is recommended that you submit your application at least one to three months before your intended date of travel to allow for potential delays. eVisitor and eTA tend to have shorter processing times than traditional tourist visas.